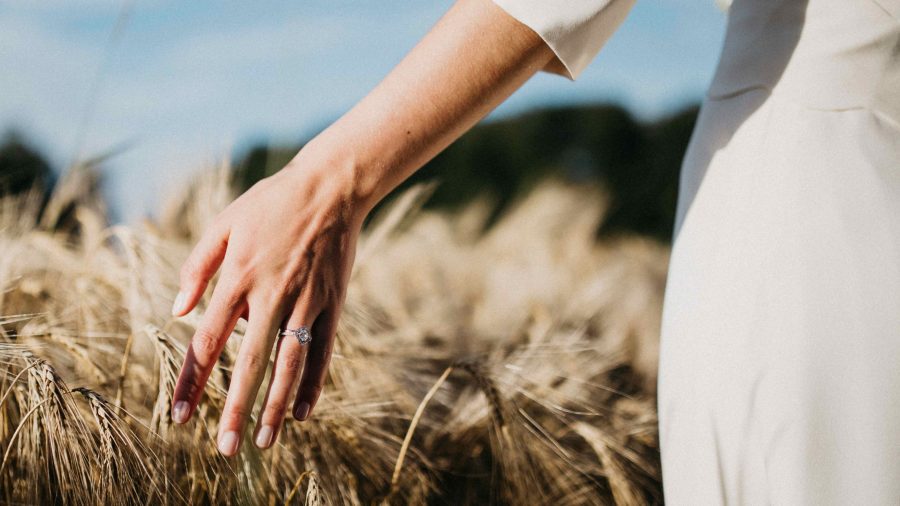 If you're ready to propose, but need some inspiration as you shop for the perfect diamond, why not take a look at the engagement ring trends throughout history? Whether she's artistic and flamboyant like the rings from the Roaring Twenties, or she's elegant and chic just like the diamonds from the 1990's, these rings can inspire you as you prepare to pop the question.
No matter what style you choose, our skinny engagement ring boxes are ideal for every shape and size–and they'll keep your ring safe and hidden until the moment you propose.
1910-1949
In 1910, women were drawn to simplistic solitaire diamonds often with yellow gold bands. This style has gained momentum in the last few years, and many jewelers are putting modern twists on the classic solitaire look with rose gold bands or twisted bands.
Throughout the Roaring 20's, striking rings that now look vintage became popular. With thick, glamorous bands and elegant motifs, these styles welcomed attention with their bold, flashy look.
Over the next 20 years, white gold grew in popularity. Women loved the clean, sophisticated color and continued pushing the envelope on jewelry design.
1950- 1999
Throughout 1950 and 1960, the white gold trend gradually made way to platinum. Round cut diamonds were the most common, but women slowly began experimenting with luxurious cuts like emerald that gave the diamond new life.
In the 70's, women began wearing thick gold bands adorned with smaller diamonds for an eye-catching glimmer that turned every head. In 1980, jewelers began flanking round cut diamonds with unique settings to draw the eye to the center.  
And don't forget about the 90's: radiant cut diamonds suddenly became all the rage with multiple smaller diamonds lining the side of the band for a chic, timeless look.
2000- Now
Women couldn't get enough diamonds on their engagement ring band in the 90's, so this trend continued into the 2000's. With a love for sparkly diamonds of all shapes and sizes, women also became interested in the princess cut. Many 2000 brides are known to have a delicate princess cut with small diamonds filling the entire band.
This led to the ever-popular halo engagement ring trend in 2010. Whether she likes rose gold or platinum, small diamonds circle the main diamond and create a powerful halo that expresses glamour and beauty.
As we approach 2020, many brides are moving toward minimalistic, understated rings such as twisted details, pear-shaped diamonds, rose gold bands, colored diamonds, and more.
It's clear that engagement ring trends come and go, but the diamond itself remains timeless. Determine her tastes, and don't be afraid to go back in time and search for a style that appeals to an old soul. Many local jewelers have vintage options with some modern flair.
When you're ready to purchase your diamond, don't forget your compact engagement ring box to protect it for years to come!
0